By Puerto Rico Day Trips site:
El Yunque National Forest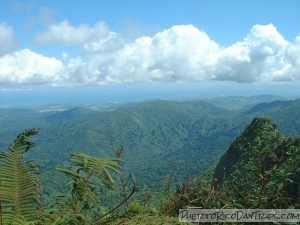 This is the first of many articles on the Rain Forest.
El Yunque Rain Forest is the only tropical rain forest in the US National Forest system. Ample rainfall (over 200 inches a year in some areas) creates a jungle-like setting – with lush foliage, waterfalls and rivers. Hike along the trails that cover miles of breathtaking terrain. The rain forest is located in the NE corner of Puerto Rico, with the main entrance in Rio Grande, just off Rt 3, on Rt 191.
The Forest contains hundreds of species of trees, orchids, plants and a few animals. You will hear the Coqui frogs and see large snails as they enjoy the moisture of the forest. You will also hear many birds as you walk the trails.
A trip to the rain forest- This is a "play-by-play" of a drive to the rain forest from some of our many trips there:
2 Options- Driving East on RT 3, you will see a sign for the rain forest for RT 191. You can turn on this small road which will take you right to RT 191. OR Driving East on Rt 3, you are looking for an Intersection with Rt 955. There will be a large sign for the Rio Mar Beach Resort at the light. Turn right at this light. The roads curves right. On the right is a really nice art/artisan gift shop "Coqui International". They hand-make soaps and candles too. You can check it. Almost right next to this (right before it) you will pass a Bakery or Panaderia, where you can pick up sandwiches for a picnic. Up a ways on the left there is another neat store – "Caribbean Trading Company". Lots of cute local crafts and Caribbean inspired things. Continue a tiny bit more on this road- at the stop sign, turn left onto Rt 191.
You will follow this road up the mountain. There is a gift shop on the right with some good bargains on souvenirs. Up a little more on the left is a restaurant "Dagao" that features PR food. It is open for lunch and dinners most days. Up just a little, on the left is the Mamayes river that people play in, if the desire hits. There is an area that charges for parking and easy access to the river, and they sometimes are open on weekends as a restaurant.
Continue along Rt 191, up, up ,up!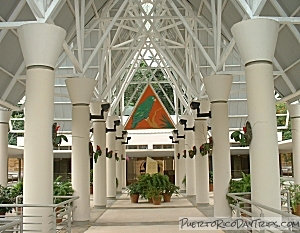 You will soon get to the El Portal Visitors Center at Km 4.2 It is open from 9am – 4:30pm everyday except Christmas Day. There is an entrance fee of $4 per adult, $2 for seniors (cost saving FYI–your National Park Service passes are valid here). Kids under 15 years old are free. It is an educational center with lots of exhibits on rain forests and conservation. There is a short movie describing the rain forest and its importance to the ecosystem. It alternates English and Spanish. The visitors center is landscaped with all sorts of tropical plants and flowers. There is a nice trail that starts at the visitors center. This trail is rarely used, but we liked it. There is a little sandwich cart where you can pick up lunch to go (or eat there). And a gift shop/bookstore. They have clean bathroom facilities. On the second floor, local artists and artisans set up on the last Thurs-Sun of every month.
After you are done in the visitors center (or if you choose not to go there), continue going up. At Km 4.4 you will see the turn off for RT 988 (This is where you will find the Angelito Trail). The Forest Headquarters is at km 4.5 on RT 191. At about Km 7.6 you will pass a gift shop and food stop on the left side – park carefully. Up at the next curve (Km 7.8) on the right is another gift shop and little roadside restaurant "La Muralla". There you can get a decent meal and a delicious Pina Colada! Or try a Coco Frio, which is a cold coconut cut open so you an drink the coconut water.
Continue going up. Yes, the road is winding, so be careful of the curves and slow moving traffic. Also at some places, the edges of the road are just gullies – so keep your tires out of them!
At Km 8.3 you will come to the La Coca falls on the right. The falls can be seen from the road – park the car, get out and take pictures. A small gift shop is here. When you are done there, continue up to Km 9.1 to the Yokahu Observation Tower. Park and go in. It is well worth the climb – the views are beautiful! Another small gift shop here and a bathroom. Closes at about 4:30pm.
There are trail heads for La Coca Trail at Km 8.8, Juan Diego at km 10, and Big tree trail at Km 10.4.
About Km 11.6 you will see the Sierra Palms Recreation area. Here you will find a food stand (Yuquiyu has yummy food) , restrooms and a picnic area.
Continue to the Palo Colorado Visitor Center at Km 12.
Here you will find most of the trail heads. Get a trail map from any of the ranger stations. There are clean bathroom facilities here, and the picnic pavilions are also accessible from here. There are picnic areas set up right on the trail to La Mina falls that are just perfect for a peaceful lunch. Here you will also be able access Bano De Oro trail (km 12.2), Bano Grande, El Yunque Trail and Caimatillo trails (km 11.8)
If you keep going up RT 191, at Km 12.7 you will come to RT 9938, which is the 1 km circle road for the Mt Britton Trail Head.
Plan Ahead
Due to the rain, the trails can be slippery – wear appropriate foot wear (sneakers or hiking shoes) . A day in the cool rain forest is a very popular place for tourists and locals alike – so it can get busy. To avoid the worst crowds, go on a week day, and stay away on holiday weekends! Open daily 7:30 a.m.-6 p.m. Ranger stations are open 9-5. The gates close at 6pm, so make sure you are out by then, or your car WILL get locked in for the night.
Note: Camping is allowed in certain parts of El Yunque with a permit. You need to fill out your camping permit paperwork two weeks in advance of intended camping stay to provide ample time for processing. They have a pamphlet that will show camping areas and rules. Here is the permit form.
Hints: It rains quite often in the rain forest (especially in the afternoon), so try to go earlier in the day and bring some light rain gear with you. It is humid and tropical, so it can be hot hiking. Bring plenty of water. And for safety's sake, stay on the trails. If you see a mongoose – stay away – as they may be rabid. Beware of flash floods in rivers. Hike on marked trails. Use common sense! There is a list of other things the Forest Service recommends on their website.
Note -Alternate route: you can take RT 186 to left onto Rt 966 to Rt 9966 into the rain forest. It meets up with RT 191 at about km 6.6. Turn right to go up to the trails, or left downhill to go to El Portal Visitors Center.
But What About the Hiking?
There are a number of maintained and some un-maintained trails in the rain forest. Here's a list of some them along with links to our experiences on them:
La Mina – a very popular trail down to a waterfall
Big Tree– also leads to La Mina falls, has educational signs along the way about the forest.
Caimitillo Trail – leads along wooden path, easy trail
Mount Britton – leads to another observation tower
Bano de Oro – a peaceful trail along a stream
El Yunque Trail – to the peak (great views)
Angelito Trail – an easy trail to a natural swimming pool
Juan Diego Falls – a short hike to a series of waterfalls where you can swim
Los Picachos – short trail to a lookout- more nice views
La Coca Trail – down through rivers, water falls.
Trade Winds Trail – to El Toro peak, through the El Toro Wilderness Area.
El Toro Trail – to El Toro Peak, through the El Toro Wilderness Area.
Rio Sabana Trail – from the north side of El Yunque to the south side
The Waterline Trail & Los Prieto Falls – on the south side of El Yunque.
Just the Facts
 There is no entrance fee for the Forest itself. The El Portal Visitors Center (optional) is $4/adult and $2/senior. Kids under 16 are free. There are lots of tour operators who will provide transportation from your hotel and give you a guided tour of the Rain forest for a fee.
 Open daily 7:30 a.m.-6 p.m, 365 days a year, however, on Christmas Day there are no Rangers or security etc. Ranger stations are open 9-5. The gates close at 6pm.
 Depending on what you want to do, you could spend as little as 1 hour, or you could spend all day. We we go, we typically allow about 4 hours.
 phone numbers: 787-888-1810, 787-888-1880, 787-888-5622 (fax)
 You can visit the El Yunque National Forest web site for more information.
Parking must be in identified areas only, in lots or marked areas. If parking along the road (in a marked area only), park well off the road (wheels outside the painted line), not blocking access to trails
 Follow Rt 3 to Rio Grande. Look for the El Yunque Rain Forest sign for RT 191. Turn there and go up the hill. If you miss that, just go to the intersection with Rt 955. Turn right at the light and follow Rt 955 to Rt 191. Turn left onto Road 191 and you're there!