Vieques Food
Where to eat local
Mofongo, Trifongo, Lechon, Empanadillas, Alcapurrias, Arroz con Habichuelas, 3 Leches, Tembleque, Pitorro, etc etc.
PUERTO RICO!
Where to Eat in Vieques
Vieques, besides having the most brilliant bioluminescent bay in the world and dozens of spectacular beaches to enjoy, is also home to multiple restaurants with diverse and tasty menus.From fine dining to sandy beach bars with a dizzying array of Caribbean cocktails, Vieques' restaurant scene is loaded with local flav
Bieke's Bistro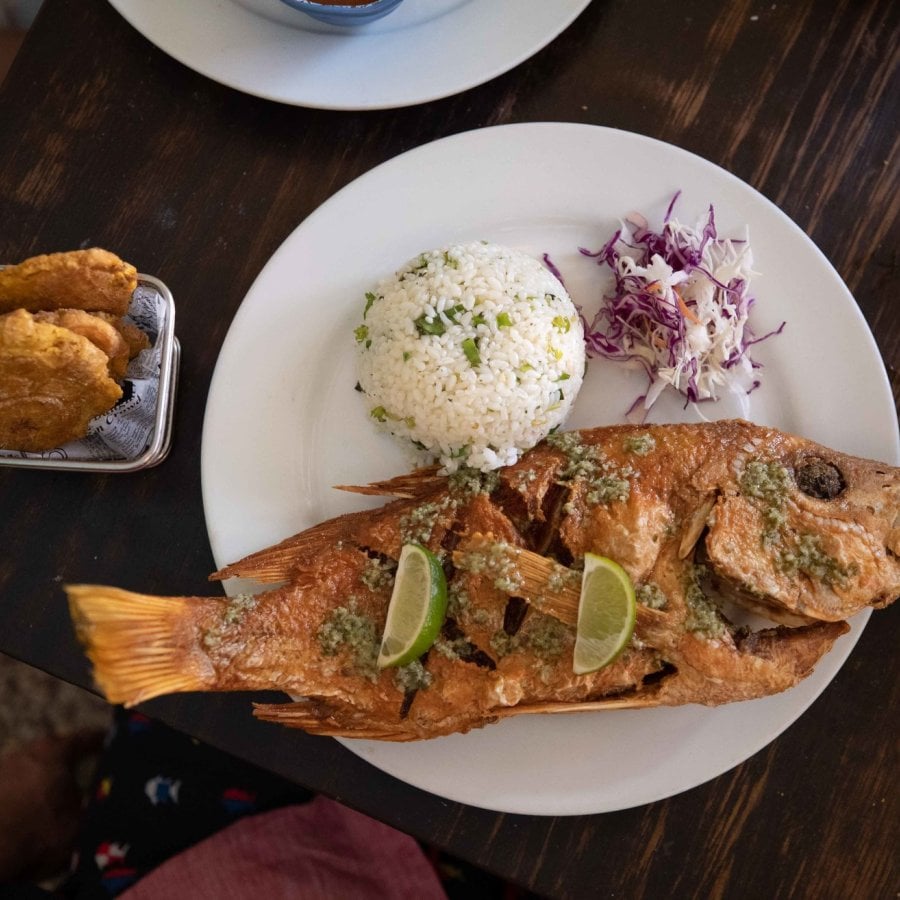 A short walk from the ferry terminal and Cofi (Sea Glass) Beach, Bieke's Bistro is another excellent spot to enjoy good food after a day on the water. It's tough to choose from the long list of appetizers, like Argentine turnovers, fish nuggets, pork chicharrones, and creamy conch plantain. You'll face a similar dilemma with the main dishes, which range from lobster tail to whole red snapper to churrasco (grilled meats). Thankfully, it's all delicious, with good wine and friendly service to match.
Bananas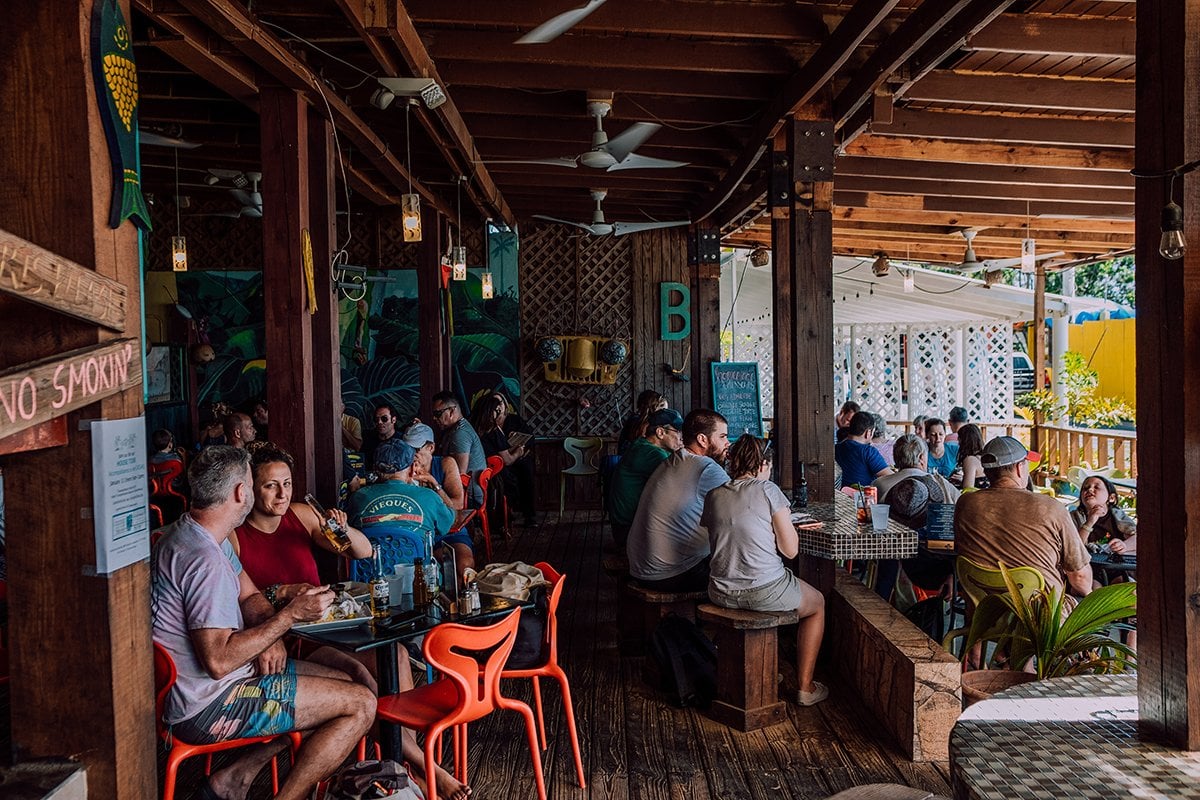 El Quenepo

Is it possible to enjoy fine dining on an island paradise like Vieques? Of course — you just have to visit El Quenepo, an upscale restaurant with a refined menu and beautiful décor, located on the waterfront of Esperanza town. This restaurant serves the freshest local seafood, succulent meat dishes, specialty cocktails, and has vegan and vegetarian options available as well.
                                                      Tin Box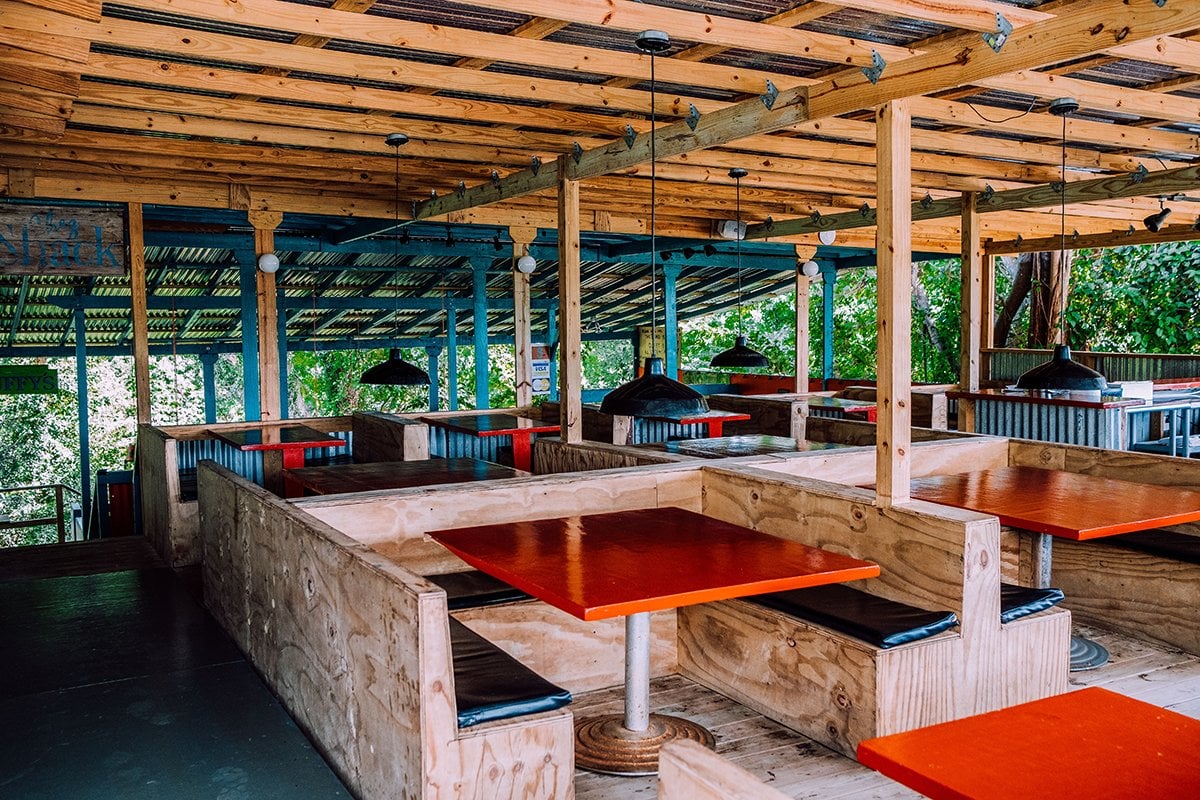 Centrally located smack dab in the middle of the island, Tin Box is a great place to stop before or after a day at the beach. You'll find great service and a wide variety of fresh, well-prepared dishes, including seafood, BBQ chicken and pork, fish tacos, steak and homemade fries, and even sushi. Order some of their famous cornbread on the side and wash it all down with fresh, natural fruit juices.
                                                      DUFFYS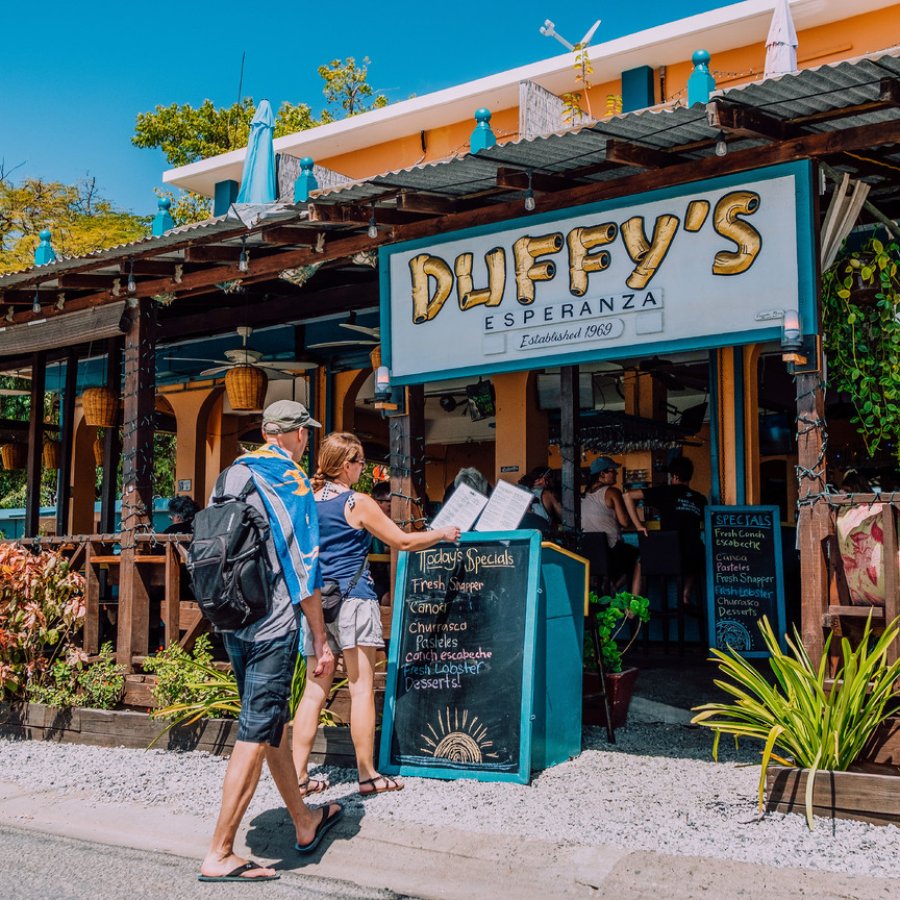 Other excellent eateries in Vieques include Bili in Esperanza town, which offers seafood, salads, and vegetarian dishes, and Duffy's, which is loved by locals for the fish tacos. Another hidden gem in Esperanza not to miss is El Guayacán, a waterfront restaurant that serves Creole cuisine with a creative twist — from seafood asopao (a Caribbean stew) to lobster arepas (South American corn cakes)
10 local foods in Vieques that you have to try

A traditional Puerto Rican meal
Puerto Rico is a small Caribbean island that is big on flavor. And the food reflects the mix of its cultures: Spanish, African and Taíno Indian, with a side of American.
From fried red snapper to crispy pork crackling, the cuisine is not only delicious, it's tradition. Chef Abel Mendoza of Estela Restaurant in Rincon says "our food in Puerto Rico is linked to our mothers, grandmas and family celebrations."
Here are just some of the local Puerto Rican dishes you must try that have been passed from generation to generation.

Mofongo
Mofongo, a savory mash of fried green plantains, is one of the most versatile dishes in Puerto Rico. Carnivores can rejoice with a mofongo topped with decadent carne frita (fried pork), while it can also be prepared as a vegan dish. For example, Bori Vegan makes a fantastic version.
Mofongo can be the protagonist of a dinner as a main or a dependable co-star as a side dish. Enjoy it alongside an epic sunset at Ladi's Place in San Juan.

Lechón asado
Lechón asado (roasted pork) is one of the most popular Puerto Rican foods. Although it's particularly popular at Christmas, you can indulge in the tasty meat and crispy skin all year round.
There are many lechoneras (restaurants that specialize in roasted pork) throughout the island, especially in the center. A day trip to Guavate in the mountainous town of Cayey to experience their famous lechoneras is a must. Lechonera Los Pinos is a local favorite.

Arroz con gandules
Arroz con gandules, which is yellow rice with pigeon peas, is the classic side to lechón asado. This dish is also associated with Christmas, but again, you can find it throughout the year on the island, especially in lechoneras. Colorful and full of flavor, it represents the "sazón" of Puerto Rico.
Savor a fabulous arroz con gandules at Lechonera El Cuñao in Cayey.

Tostones
Plantains, a cousin of the banana, are larger and not as sweet. It grows abundantly across the island and is a very common ingredient in Puerto Rican dishes.
Tostones are one of the simplest dishes incorporating this ingredient, with sliced plantains that are fried and served as a dish or a snack. These indulgent and crispy treats are naturally vegan and should be on the top of your local dishes to try in Puerto Rico.

Alcapurrias
A day at a Puerto Rican beach is not complete without an alcapurria. It's one of the most popular street foods, made out of a "masa" of green bananas and yautia (taro root).
The fritters are filled with tasty ground beef or crab meat, and are then deep-fried resulting in a crunchy exterior and soft interior. An alcapurria paired with a cold Medalla beer and a view of the beach may just be the highlight of your trip.
A great place to treat yourself to is Piñones, a beachside area in San Juan that has many kiosks serving this decadent treat.

Bacalaítos
Another beloved snack is the bacalaíto, which is made of bacalao (codfish). These beachside treats are composed of a batter of codfish and flour and then deep-fried. Irregular in shape, these golden disks are not the most photogenic, but once you take a bite, you'll remember them forever.
They can be found at most beach kiosks.

Chillo frito
Another local dish you must try in Puerto Rico is "chillo frito," which can be found in every seafood restaurant around the island.
Chillo is the local name for red snapper. It's commonly served whole with a side of crispy tostones, and one of the best versions of it is served at Santaella in San Juan.

Ensalada de pulpo
Ensalada de pulpo (octopus salad) is another beloved dish, especially in the many beach town restaurants along the island. It's typically made of tender pieces of chopped octopus, onions, tomatoes and olive, but every restaurant offers a slightly different version.
You can buy it in a cup in many kiosks on the beach or catch a more elaborate presentation at a restaurant. We suggest ordering a cup at the kiosks of Luquillo before heading to the beach.

Quesitos
Panaderias (bakeries) are abundant on the island and make great places to grab a budget meal. Some of the best local foods at a panaderia are quesitos, composed of sweet puff pastry filled with cheese. A good one will be flaky on the outside with a shiny coat of caramelized sugar.
We recommend pairing it with a cortado made with rich Puerto Rican coffee. Kasalta Bakery in San Juan is known for their amazing quesitos.

Piña coladaWhat is the perfect drink to pair with many of these dishes? A piña colada! Considered the national drink of Puerto Rico, this cocktail is a must-try.It's pure heaven, made with cream of coconut, pineapple juice and Puerto Rican rum. Have a cocktail with a view at the birthplace of the piña colada, the Caribe Hilton.
MOFONGO
Mofongo is a traditional Puerto Rican dish that consists of mashed plantains and pork or chicken, seasoned with garlic and spices.
LECHON
Lechón means roasted whole pork, which is cooked for hours over hot coals or an open flame, allowing the skin to get crispy while the meat remains tender and juicy. This is a dish you can typically only get in the countryside of Puerto Rico and it becomes more prevalent during the holiday season.