By Discovering Puerto Rico Website:
41 Things To Do In Old San Juan

Old San Juan has a lot to offer everyone, no matter your age or your interests. The following is a list of 41 things to do the next time you visit Old San Juan.
In order to make it easier to locate the various attractions, this list has been broken down by plaza. If you have a favorite place that is not listed, please add it to the comments section at the end of the article.
Plaza San José
1. Plaza San José 
Said to be the oldest of the plazas in Old San Juan. The plaza is named after the San José church that is close by.
2. Casa Blanca
Built for Ponce de Leon, now a museum for mid 16th century life
End of Sebastian Street
Open daily (except Sunday / Monday)
787-725-1454
3. El Morro Fort
Guarding the entrance to San Juan Bay – 6 level fort, now maintained by the National Park Services. This is one of the most spectacular buildings here in Old San Juan.
Open Daily: 9am – 5pm (June to November) and 9am – 6pm (December – May)
End of Norzagaray Street
Website: www.nps.gov/saju/
787-729-6777
4. Kite Flying at El Morro
As well as touring El Morro, you can also enjoy the areas outside the fort too. The grass land in front of El Morro is a popular spot for families on a weekend. Weather permitting you will see people of all ages flying kites on the sea breeze. If you would like to fly a kite, just check with the roadside street vendors as they usually have kites available for a few dollars
5. Museum of African Roots 
Highlighting Puerto Rico's African heritage
Open daily (except Sunday / Monday)
San Jose Plaza
787-724-4294
6. Museum of the Americas
Highlighting the islands African and Indigenous heritage
Open daily (except Sunday / Monday)
End of Norzagaray Street
787-724-5052
7. National Gallery
Showcases Puerto Rico art from the 1800's to 1960's. Includes artists such as Jose Campeche and Francisco Oller
Open daily (except Sunday / Monday)
98 Norzagaray Street
787-725-2670
8. Pablo Casals Museum
Memorabilia of the famous cellists life
Open daily (except Sunday / Monday)
San Jose Plaza
787-723-9185
9. San José church
Located just by the plaza it is currently undergoing renovations.
10. San Juan Cemetery
Final resting place of several famous Puerto Ricans.
Located next to El Morro Fort
11. San Juan Museum
Showcases the history and culture of Puerto Rico
Open daily (except Sunday / Monday)
787-724-1875
12. San Sebastian Street in January
Famous street festival takes place here in January – San Juan's answer to Mardi Gras.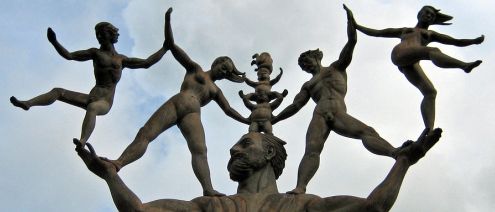 Plaza de Armas
13. Plaza de Armas
Name is derived from the military defense drills that were carried out there
14. Casa del Libro
Showcases rare and precious books
255 Cristo Street
Open daily (except Sunday / Monday)
Webiste: www.lacasadellibro.org/ (Spanish)
787-723-0354
15. Casa de Ramon Power y Giralt
Showcases the works of Puerto Rico's Conservation Trust
155 Tetuan Street
Open daily (except Sunday / Monday)
787-722-5882
16. Children's Museum (Museo del Nino)
Interactive exhibits on 3 different floors. Children can learn about TV reporting, caring for animals as well as things like recycling and Space exploration. Focused on children under 15 years of age.
150 Calle Cristo Street
Open Tuesday – Thursday 9am – 3:30pm, Friday 9am – 5pm, Saturday & Sunday 12:30 – 5pm
There is an admission fee $7
Website: www.museodelninopr.org/ (Spanish)
787-722-3791
17. Cristo Chapel
Small chapel dedicated to the Christ of Miracles
Lower end of Cristo Street
18. Shopping on Cristo Street 
Looking for a place to shop. Check out Cristo Street; known for its designer outlet shops such as Coach, Ralph Lauren and more.
19. La Fortaleza
Now home to the Governor of Puerto Rico
Tours are available of the grounds
Open daily
Website: www.fortaleza.gobierno.pr/
787-721-7000 ext 2211
20. Pigeon Park
Small park where you can see awesome views of San Juan Bay and also feed the pigeons
Close to Cristo Chapel
21. San Juan Cathedral
Last resting place of Ponce de Leon.
Daily mass in Spanish
Website: www.catedralsanjuan.com/
787-722-0861
22. San Juan City Hall
Built after the city hall in Madrid. Now has a gallery room and information center
Open weekdays. Gallery open daily (except Sunday / Monday)
787-724-7171 ext 2000
23. San Juan Gate
Last remaining gate that was built into the massive defensive walls that protect the city of Old San Juan
Gate is closed at night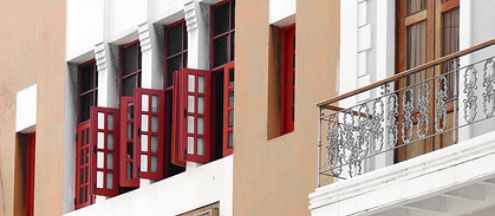 Plaza de Armas
24. Plaza de Armas
Small plaza overlooking San Juan bay
25. Casa Don Q 
Small museum highlighting the history of the Serralles rum making family and Don Q rum – free samples available
Paseo Gilberto Concepcion de Garcia
Open Friday – Wednesday
787-977-1720
26. La Casita
Home to the Tourist Information Center
Lower end of San Justo Street
Open daily
787-722-1709
27. La Princesa
A former jail is now home to the Puerto Rico Tourism Company. Now has an art gallery
Paseo La Princesa
Open weekdays
787-721-2400
28. Old Harbor Brewery 
The only micro-brewery in Puerto Rico
Website: oldharborbrewery.com/
29. Paseo La Princesa
Promenade that follows the San Juan Bay and the city walls. Takes you to the San Juan Gate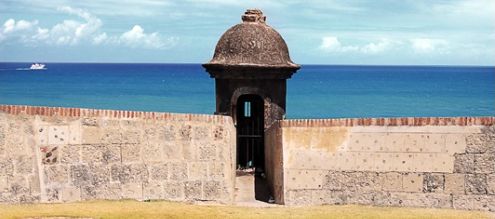 Plaza Colon
30. Plaza Colon
The plaza now honors Christopher Columbus and center stage is a statue of the explorer
31. Le Lo Lai Music and Dance Show
This is a local music and dance show set in the grounds of San Cristobel fort
Evert Tuesday at 6pm
San Cristobel Fort
Start of Norzagaray
Website: www.nps.gov/saju/
787-729-6777
32. Pharmacy Museum and Museum of 19 Century Puerto Rican Family
Fortaleza Street, corner of Callejon de Capilla
Open daily (except Sunday / Monday)
Tel: 787-977-2700
33. SoFo District
South end of Fortaleza Street is know for its numerous fine restaurants and also a yearly food festival
34. San Cristobel Fort
5 independent units connected by tunnels. Impressive structure that can be seen when you arrive in Old San Juan by car. Maintained by the National Parks Service.
Located at the start of Norzagaray
Open daily: 9am – 5pm (June to November) and 9am – 6pm (December – May)
Website: www.nps.gov/saju/
787-729-6777
35. Tapia Theater
The theater is over 170 years old and is named after local playwright, Alejandro Tapia.
Located at Fortaleza Street, corner of O'Donnell
Tel: 787-723-1709
Other attractions:
36. Captain Duck Tour
Take a land and water tour of San Juan with this amphibious bus tour
Webiste: www.captainduck.com/
787-725-0077
37. Free WiFi in Plaza's around Old San Juan
If you feel the need to be connected with the internet while wandering around Old San Juan, you should be able to pick up a wifi signal at most of the plazas in Old san Juan
38. Horse and Carriage Rides 
Tour the city on board a horse drawn carriage – tours of varying lengths are avilable and start close to the tourist information office at the La Casita
39. Night Tales of Old San Juan with Legends of PR
Take a tour of Old San Juan after the sun goes down.
Website: www.legendsofpr.com/nighttales.htm
40. Rumba Boat
Operates Thursday to Sunday evenings. Tour the San Juan bay to the sounds of Latin music
Tel: 787-375-5211 or 787-263-2962
41. Segway Tour of Old San Juan
Tour the major attractions of Old San Juan on a Segway
Website: www.segwaytourspr.com/